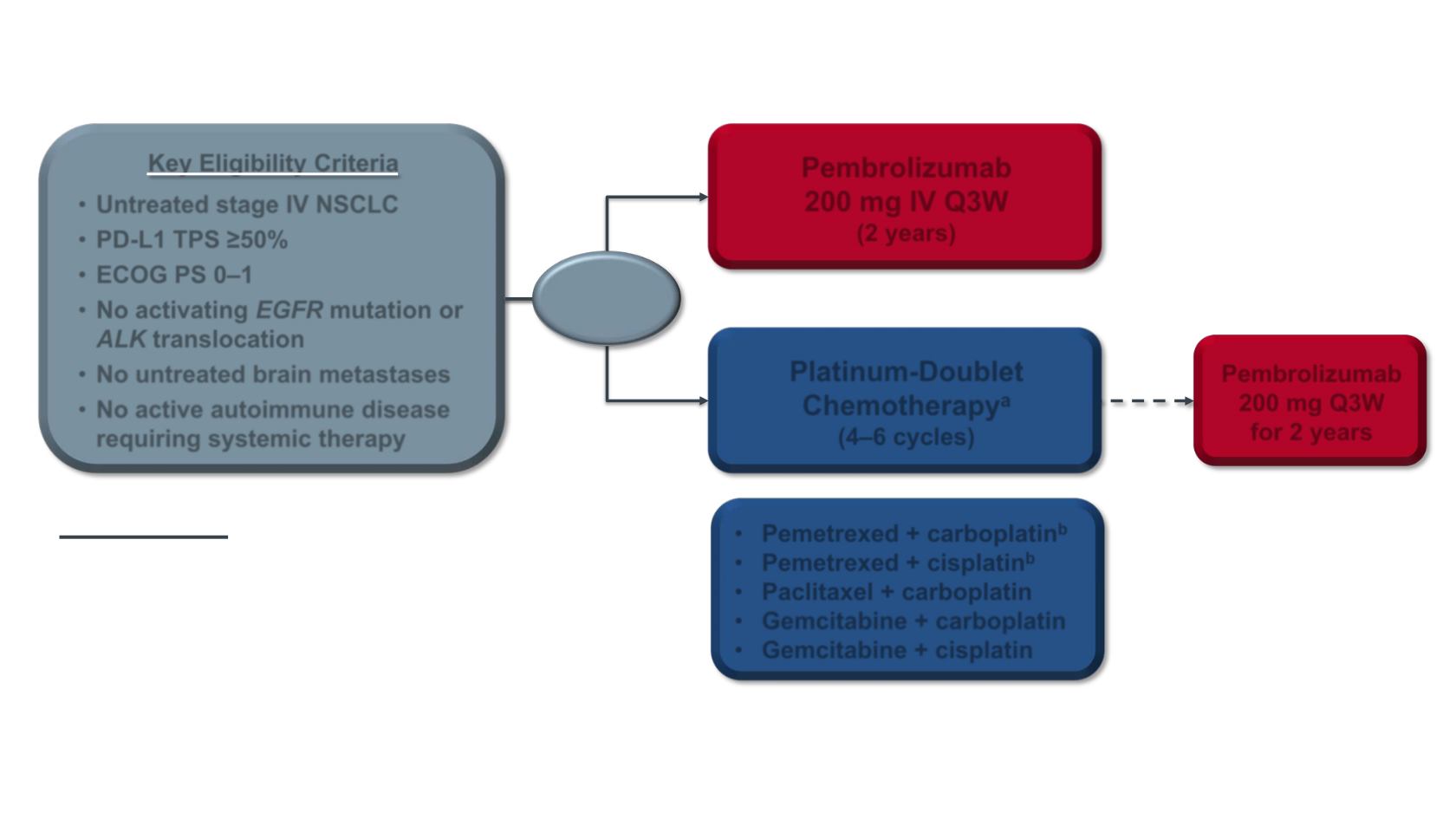 KEYNOTE-024 Study Design (NCT02142738)
a
Optional pemetrexed maintenance therapy for nonsquamous disease.
b
Permitted for nonsquamous disease only.
c
TPrior to the DMC recommendation and amendment 6, which permitted those in the chemotherapy arm to be offered pembrolizumab
(based on interim analysis 2 data), patients were eligible for crossover when PD was confirmed by blinded, independent central radiology
review.
Key Eligibility Criteria
•
Untreated stage IV NSCLC
•
PD-L1 TPS ≥50%
•
ECOG PS 0–1
•
No activating
EGFR
mutation or
ALK
translocation
•
No untreated brain metastases
•
No active autoimmune disease
requiring systemic therapy
Pembrolizumab
200 mg IV Q3W
(2 years)
R (1:1)
N = 305
Pembrolizumab
200 mg Q3W
for 2 years
Platinum-Doublet
Chemotherapy
a
(4–6 cycles)
•
Pemetrexed + carboplatin
b
•
Pemetrexed + cisplatin
b
•
Paclitaxel + carboplatin
•
Gemcitabine + carboplatin
•
Gemcitabine + cisplatin
End Points
Primary: PFS (RECIST v1.1, blinded
independent central review)
Key secondary: OS
Secondary: ORR, safety
Exploratory: DOR
PD
c
Reck M, et al. NEJM 2016